Why Everyone Should Read Dopesick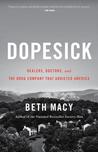 Dopesick: Dealers, Doctors, and the Drug Company that Addicted America by Beth Macy
My rating: 5 of 5 stars
As soon as I finished this book I tweeted, "Anyone who is a public policy maker, educator, or citizen (in other words everyone) needs to read Dopesick: Dealers, Doctors… by Beth Macy. This book tells the history of the #opioidcrisis back to the Civil War until today like none other!" I learned so much history that I did not know. By the time the Civil War ended, addiction had already touched middle-class housewives, immigrants, veterans and even physicians hoping to soothe their own aches and pains. This is when the opioid epidemic began. Between the 1870s and 1880s, America's per capita consumption of opiates had tripled. On March 1, 1915 a law passed by Congress and signed by one of my favorite Presidents, Woodrow Wilson, would become the first law to criminalize drug use, the Harrison Narcotics Tax Act. I also learned that opioids such as morphine and codeine are naturally derived from opium poppy plants more commonly grown in Asia, Central America and South America. Heroin is an illegal drug synthesized from morphine.
Hydrocodone and oxycodone are semi-synthetic opioids, manufactured in labs with natural and synthetic ingredients.
I really like fact that Macy also spent a great deal of time discussing and educating her readers on the public policy component of the opioid crisis. Macy argues that a big obstacle to solving the crisis is that many local, state, and federal agencies and governments are more concerned about protecting turf and budgets than solving the problem and helping people. This book pushed and stretched me to understand this very complex issue.
One Response
[…] Dealers, Doctors, and the Drug Company That Addicted America. I blogged about this book in Why Everyone Should Read Dopesick. The supply-side of the opioid issue is one that Macy has chronicled in detail. The supply-side […]

LikeLike