Recently, I was in a group that had individuals continually bashing the United States. Keep in mind these were fellow U.S. citizens. I really have a problem with this; our country is not perfect, has things to improve on, and people with different values and ideals than mine, but I love our country and would never speak ill of it. This is not me challenging their motives because they hold a different worldview than mine, but that I would rather there be a discussion of specific beliefs and differences in opinions. I wrote about this while celebrating on country's birth on July 4th in 2015 in Civilized Disdain Vs. Political Correctness. When studying our history it is found that we have become an incredible collection of states and people because of our, sometimes violent, differences.
I finished the great book, The Field Of Blood: Violence in Congress and the Road To the Civil War, by Joanne Freeman, a couple of weeks ago and learned about the very violent confrontations in our legislature over differences. These differences led to physical violence. Freeman's research-based approach to this book tells us of how debate and disagreements would break down into violent fights, including duels, canings, fist fights, knife fights, and all out brawls. None of this took place in a state of vacuity; the media of the time were involved as well as other prominent figures. All the actors in this book, I believe, had a great love for our country, but were in a time when this barbarousness, while not accepted by all, still took place. These differences ultimately ended in a Civil War, that ultimately tested our bonds of union and democracy.
Loving the United States, or anyone's country for that matter, well means taking her seriously and working to preserve what lovely about her and to help to fix what is not. Instead, for many, their love of their country is conditional. As long as everything is on the course they choose, they are full of patriotism and love and enjoying all the traditions and ceremonies. Conversely, when things are not going to the liking of these individuals, they have no respect for our officials, our ceremonies, or our traditions. So, if the love of one's country is conditional this way for some; I would argue that it is not love of country, but love of self being substituted for love of country.
My love for my State of Indiana and the United States is not transitory. There can be no falling in and out of love. Even when I am disappointed or working very hard to make things better, my love is permanent.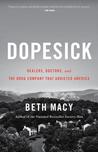 Dopesick: Dealers, Doctors, and the Drug Company that Addicted America by Beth Macy
My rating: 5 of 5 stars
As soon as I finished this book I tweeted, "Anyone who is a public policy maker, educator, or citizen (in other words everyone) needs to read Dopesick: Dealers, Doctors… by Beth Macy. This book tells the history of the #opioidcrisis back to the Civil War until today like none other!" I learned so much history that I did not know. By the time the Civil War ended, addiction had already touched middle-class housewives, immigrants, veterans and even physicians hoping to soothe their own aches and pains. This is when the opioid epidemic began. Between the 1870s and 1880s, America's per capita consumption of opiates had tripled. On March 1, 1915 a law passed by Congress and signed by one of my favorite Presidents, Woodrow Wilson, would become the first law to criminalize drug use, the Harrison Narcotics Tax Act. I also learned that opioids such as morphine and codeine are naturally derived from opium poppy plants more commonly grown in Asia, Central America and South America. Heroin is an illegal drug synthesized from morphine.
Hydrocodone and oxycodone are semi-synthetic opioids, manufactured in labs with natural and synthetic ingredients.
I really like fact that Macy also spent a great deal of time discussing and educating her readers on the public policy component of the opioid crisis. Macy argues that a big obstacle to solving the crisis is that many local, state, and federal agencies and governments are more concerned about protecting turf and budgets than solving the problem and helping people. This book pushed and stretched me to understand this very complex issue.
On this 2018 Fourth Of July morning I am reminded of the great leadership that has been necessary for the United States to become the great country it is. My family and I are vacationing in Maine right now so, of course, I had to do some studying of influential leaders from Maine. Boy did I come across a great one: Joshua Lawrence Chamberlain. Now I know that Independence Day is observed to honor our Declaration of Independence from the tyranny of Great Britain and those who provided the leadership during this important time of our country's founding, but since I am in Maine I am going to honor and remember Chamberlain too.
Raised from a modest life in the small town of Brewer Maine, Joshua Chamberlain chose the professions of ministry and academia filling in the post of Professor of Rhetoric at Bowdoin College during the tumultuous 1850s. As the Civil War broke out, Chamberlain felt the impulse to serve based on his belief in preserving the union and his moral conviction against the institution of slavery. In early 1862, Chamberlain expressed his desire to serve to the Governor of Maine, who offered him the rank of Colonel in the Maine volunteers. He turned that rank down because he did not believe he had the experience necessary for the rank. This is lesson one learned from him – be modest and know what skill level you have and what you still have to learn. Believing he needed to gain experience and knowledge of the military profession, Chamberlain's uncommon act of humility set a tone for the remainder of his service.
But the cause for which we fought was higher; our thought wider… That thought was our power. ~ Joshua Lawrence Chamberlain
Joshua Lawrence Chamberlain went on to have a very successful military career and ended that career as a Brigadier General, but two Civil War stories are worth telling in this blog post. Here they are:
Battle of Gettysburg, July 2, 1863, Little Round Top
Colonel Joshua L. Chamberlain, who he now commanded, ordered the 20th Maine Regiment to execute a daring counterattack against the 15th Alabama Regiment of the Confederate Army on July 2nd 1863 during the Battle of Gettysburg. At the extreme left flank of the Union Army, the 20th Maine fought off repeated assaults for the past several hours against the determined Confederate Soldiers. Even though the 20th regiment was outnumbered and low on ammunition, Chamberlain's bold decision and courageous leadership led his men of Maine down the slopes of Little Round Top at Gettysburg, Pennsylvania and stopped the Confederate assault against the Union Army's left flank. He showed tremendous insight and leadership in making this bold move. Colonel Chamberlain was inspirational to his men and as a leader, a true influencer.
Confederate surrender at Appomattox Courthouse, April, 1865
Joshua Lawrence Chamberlain taught us what it meant to be a man of character and compassion when he was personally asked by General Ulysses S. Grant to preside at the Confederate surrender at Appomattox Courthouse over the surrender detail. It was not the fact that he presided that is noteworthy here, it is the awesome act and example of leadership he performed. As the 20,000 Confederate Soldiers paraded by to turn over their arms and battle flags, Chamberlain gave the Union Army detail the command of "carry arms" to salute Confederate's service and gallantry in battle. Many, then and now, credit this leadership gesture as the beginning for the country's healing process toward reconciliation.
This act took courage and would bring him accolades and plagued him politically for the rest of his life. The southerners deeply respected him for this show of compassion and respect. Conversely, however, many northerners, including those in his home state of Maine, did not see it that way. They wanted to continue the humiliation of the Confederacy. Chamberlain did what was right and faced the consequences.
Congressional Medal of Honor
Joshua Lawrence Chamberlain was awarded the Medal Of Honor for his service At Gettysburg. He saw combat at Fredericksburg, Cold Harbor, Petersburg, Five Forks, and the Appomattox Campaign.
Chamberlain Leadership Lessons
Chamberlain always positioned himself in the middle of his brigade's formation. He led shoulder to shoulder with his men. This built trust and gave him the ability to truly know what was going on. Chamberlain reassured his soldiers through his cool and calm presence during the heat of combat. He garnered the trust of his men through his actions in combat. The other thing that really impressed me as I studied this hero was his commitment to studying his new military profession, and his commitment to developing his subordinates. We need to pay attention to these lesson learned and apply them to our daily lives as leaders.
Learn More About Joshua Lawrence Chamberlain
There are so many more leadership lessons to learn about this great man that went on to be President of Bowdoin College in Brunswick, Maine and four term (one year terms at that time in Maine). Let me suggest two ways that I did to learn more:
Visit Bowdoin College in Brunswick, Maine and visit the Joshua Lawrence Chamberlain Museum. It is awesome! I learned a great deal from the tour and curators there. The museum is the restored home (the only home he and his wife, Fanny, ever owned). There is family history, Civil War history, history of his time as Bowdoin College President, and history of his Governorship. It is awesome!
Read the great book by Alice Rains Trulock, In The Hands Of Providence: Joshua L. Chamberlain & The Civil War. This book is awesome and I gave it five stars. Is a very well written well told story of this great leader. This book inspired me to dig deeper and explore more to understand how this man became the great leader he did, at a crucial time in our nation's history.
I am thankful on this Independence Day, 2018 for Joshua Lawrence Chamberlain. What leaders are you thankful for on this day of celebration of our great country, The United States Of America?